The Holy Trinity of ARPGs (Torchlight, Diablo, and PoE)

Brixtan
Posts: 2,289
Anyone who is a fan of the action-rpg genre knows that now is a great time to be a fan. I cannot recall a time in the last twelve years that we've had such a great selection of arpg's to choose from. There are three heavy hitting titles vying for your attention and devotion (and money) and they're all coming out in the next few months. It's a shame that most internet discussions that attempt to compare these three games normally devolve into fanboy rage-filled arguments, almost as if they are jealously protecting and defending their preferred game much like a mother protects her children. The truth is, I feel that real fans of the genre owe it to themselves to give all three games an unbiased look.
Background
- Time spent beta testing Path of Exile = Sept 2011 / 8 months
- Time spent beta testing Diablo 3 = Jan 2012 / 4 months
- Time spent beta testing Torchlight 2 = 4 days (I got my beta invite last Wednesday). Time spent playing Torchlight 1 = 200+ hours on the PC / 50+ hours on XBOXLIVE
TL:DR version: Just read the
pros and cons section for each game if you have reading ADD
.
TORCHLIGHT 2
My time in the beta has been the shortest of all three games, but it's also a game I'm most familiar with so I don't think this puts me at a distinct disadvantage when talking about it and drawing conclusions/comparisons. In short, the art style is wonderfully done in a tasteful watercolor-esque technique that even Walt Disney would be proud of. What it lacks in pure technical power (this game should run on computers even 7+ years old) it makes up for in pure artistic style. There is a warmth to the overworld that has to be seen firsthand to be understood. Unlike Torchlight 1, which took place in a mine beneath the town of Torchlight, Torchlight 2 will take players over a sprawling world that is amazingly huge. The first outdoor zone you enter in Act 1 after stepping foot outside of town could take hours to fully explore. The overworld is littered with various side dungeons, marked by bronze circles on your mini-map, that each hold tantalizing treasures and an end-boss to boot. For players who feel compelled to explore every nook and cranny, expect to spend upwards of 15-30 minutes per side dungeon. Along the way, you'll find quest givers with tasks for you in the zone (your typical collect object 'x' and bring it back to me). These quest givers are randomized so you'll never know what to expect each time you play through the game.
Online connectivity:
Torchlight 2 can be enjoyed off-line, over LAN play, or on-line. On-line matchmaking in the game is effortless and straightforward for those that prefer online play. Here, you can create or join a game, keep it open for players to join or put a password on it to keep it private. Any friends you have added while playing on-line will show up on the left-hand column. Selecting a game will show you how many players are in-game, what class they are playing, and what their name is. Currently games can be set to have from 1 to 6 players: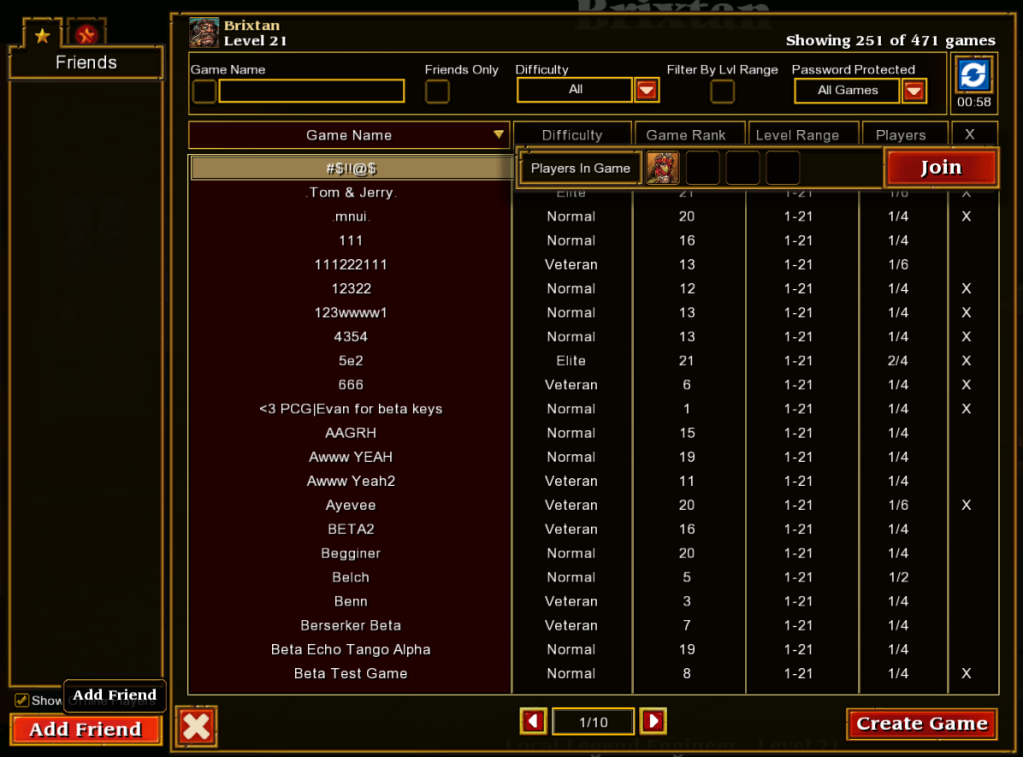 Difficulty:
You can choose from one of four difficulties each time you log onto your character to start a game: Casual, Normal, Veteran, or Elite. (There is also a **** option for all of the above). Suffice to say, it is here where I think TL2 will surprise people, especially people who aren't currently considering TL2 being a serious contender in this genre. Elite difficulty is HARD - very hard. You will die. A lot. It's perfect for shutting up people who joke about how easy the Torchlight series was (I say was because after TL2 hits people won't be making those type of snide "TL is so easy/casual" comments anymore). While I don't think that Elite is perfectly balanced yet (
see Hawkns comments about ranged vs melee
), it has a lot of potential to give the more **** fans (and gluttons for punishment) a run for their money in terms of sheer difficulty of content. What's great here is that it's all player driven. You decide how intense you want your gaming experience. If the going gets rough, you can always log out and dial down the difficulty and keep progressing. After completing TL2, players will unlock a new game+ mode that purportedly ups the game difficulty significantly on concurrent play throughs. I don't have any further information about how that will function at this time though.
Loot:
The one thing (perhaps, the main thing) that drives players to continue playing and enjoying arpgs is the loot. In a quest to ever improve ones character, the sirens call to find that next best piece of equipment has been known to keep players engaged for months and years on end. TL2 does not disappoint in this respect. Loot comes in the same familiar hierarchy as TL1: your regular trash items are white, magic items are green (with normally one affix), rare items are blue and are more powerful (with a couple of affixes, although this varies currently), and unique items are orange (and generally contain better and more affixes). New to TL2 are legendary items, which we don't know much more about at this point. These will hopefully be the be all end all of loot, surpassing even unique gear in quality. Not only are there over 1400 uniques (source:
http://forums.runicgames.com/viewtopic.php?f=30&t=22708&hilit=1400+uniques
), but the sheer amount of armor sets and assets has easily increased ten fold, if not more, from TL1. They are upwards of 83+ armor sets, 24 of which are class specific. There are over 65 different looks for each class as well. (source:
Runic Games
)
The character doll has been changed slightly, but looks great and is easy to understand at first glance. Socketing items becomes far more important in TL2 than in TL1. The type of socketable ember that drops are no longer able to be combined into more powerful ones. This eliminates the need to hoard countless embers like you did in TL1. They are also more diverse in their applications and will no doubt become a defining keystone of unique character builds. Also, enchanting as it was known in TL1 is gone. No longer can you uber enchant an item repeatedly until it's game breaking. Enchanters can be found in dungeons or zones (and one that follows you back to town after you complete a quest) and will generally only bestow 1-2 enchants per item (as far as I've found in the beta). Did I also mention that there are new types of weapons that are augmented? Augmented weapons will upgrade after certain conditions are met:
Stat Points:
Perhaps the most divisive mechanic amongst these three games are how stat points are handled. TL2, much like TL1, gives players the freedom to allocate 5 stat points into one of four categories every time they level up: Strength, Dexterity, Focus, or Vitality. The difference here is that TL2 has changed how these stats apply to your character. Strength will increase weapon damage as well as critical hit damage. Dexterity will improve your critical hit chance and dodge chance along with reducing the fumble penalty on melee hits (all melee hits have a chance to 'fumble', that is, do far less damage than they should). Focus increases your mana pool and elemental damage as well as increasing the chance to perform an execute attack (in which you attack with both weapons simultaneously). Vitality increases your health pool, armor, and chance to block with shields. It's highly possible to make your build do one thing, and do it extremely well. For example, I wanted to make an Engineer tank and made a conscious effort to pick equipment, skills, and stats that would play to that niche: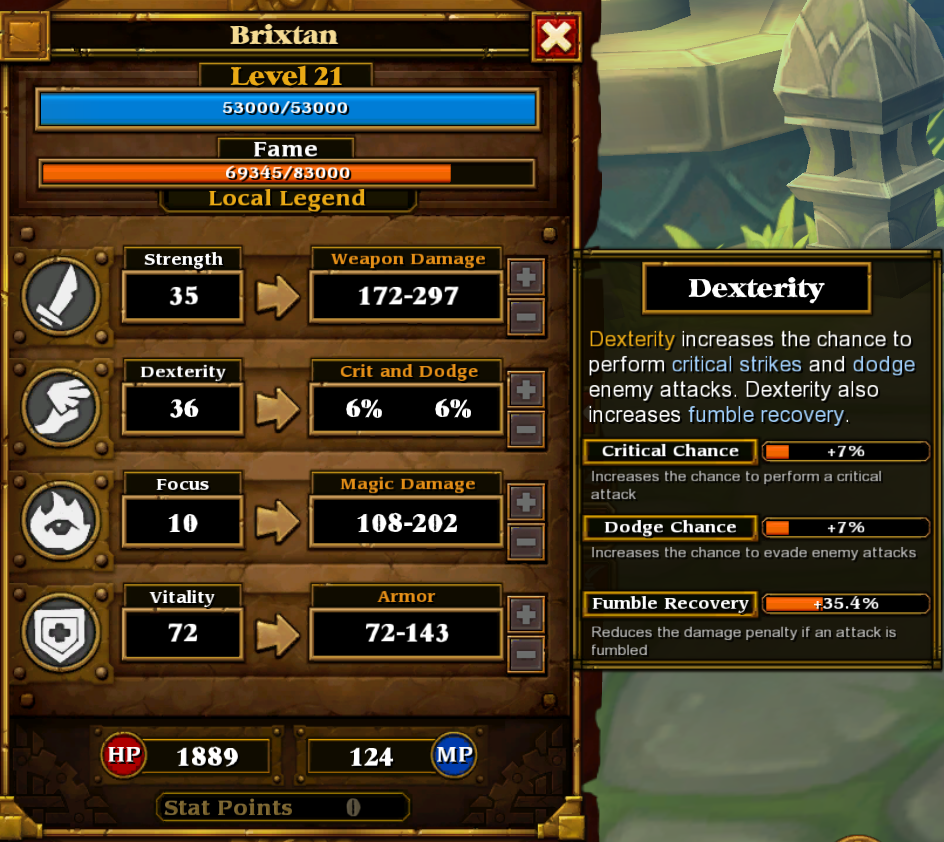 Pros:
+ cost: TL2 will only run you $20.00 (it's available for pre-order on Steam)
+ on-line and off-line play: you can play your character off-line and take him on-line to play with friends seamlessly. There is also LAN play for the nerds among us.
+ character diversity: the stat point allocation, when viewed within the context of the other TL2 mechanics such as custom socketable ember, enchanting, class-specific loot, will make for some compelling and truly unique builds.
+ Modding: this will no doubt become the "Skyrim" of arpgs; this will likely go down as the seminal sandbox arpg, giving players the tools to create, share, and enjoy limitless content, loot, classes, creatures, and zones.
+ Developers: the staff at Runic are engaging and quick to respond to feedback elicited from fans. If there is a problem that's brought to Runic's attention, you can bet that they'll address it.
+ Story: there is a lot of bad stuff going down in TL2, many of which will surprise players (hello possessed Alchemist). The narrative is far improved over TL1's ember corruption in the mine story.
+ Pets: they are back, with 8 total now (up from the original 2 in TL1). You can send them to town to sell (and now buy) items for you.
+ Music: Matt Uelmen can do no wrong. The music he did for TL2 is some of the best I've heard, surpassing even his work on Diablo 2 in my opinion.
+ Artstyle: Walt Disney meets Diablo, done up in a watercolor motif of beauty. The art style is a visual feast for the eyes.
+ Combat: it's fast, frantic, and fun. Anyone who played TL1 will feel right at home.
+ Personalized loot drop: everyone sees (and gets) their own loot. No ninja looting.

Cons:
- No secure servers (at least not yet) means that unless you are playing with a close group of friends you trust, chances are that ultra legendary axe you spent weeks grinding for will be console-spawned by the millions on-line.
- loot itemization and the 'loot soup' from TL1 still exists to a lesser extent in the current beta build. Thankfully the devs are taking steps to address it so I'm not too concerned.
- no viable/compelling economy (in the beta): I've amassed 28k gold in the current beta and have no idea what to spend it on.
- potion spamming: it still exists, albeit to a lesser degree than in TL1. Potions are now on a 8 sec cooldown, which means during those heavy boss battles you'll only be spamming potions every 8 seconds instead of every 2 like in TL1.
Path of Exile
How Grinding Gear Games came out of nowhere to produce such a compelling and dark arpg still baffles me. This game, made by the New Zealand developer
Grinding Gear Games
, is currently in closed beta and is planned for an open beta release next month. It is free-to-play, so no one has any excuse to not even try it. Of the three heavy hitters, it's the one I've spent the most time playing in beta. Having sunk in well over 100+ hours into the game, I think I have a pretty good grasp on it's pros and cons. For the uninitiated, Path of Exile is based on the premise that you have been exiled from civilization to the forsaken island of Wraeclast. There are six character classes to choose from: Templar, Marauder, Witch, Ranger, Duelist, and The Shadow. I've done a fair amount of writing on the core mechanics in a prior
thread of mine
, so I won't repeat them here.
Online Connectivity:
Unlike TL2, Path of Exile requires a constant internet connection in order to play. Players are stored server side much like MMOs. You can party with up to six total people, although I believe the sweet spot is somewhere between 2 - 4.
Character progression:
It's here where Path of Exile stands out from it's competitors. Players allocate skill points into a
passive skill tree
. It's huge and offers the ultimate in freedom when deciding how to build your character. The other core mechanic that drives character customization are
skill gems
(think materia from FF7), which can be socketed into a matching color socket on items to give the user a skill. Each skill gem levels up and grows stronger over time. There are also support gems that augment the abilities of skill gems they are linked to. The possibilities for character builds are virtually astronomical and only limited by your creativity.
Difficulty:
The closed beta currently has two acts enabled, with a third act planned for release around the time the game goes into open beta. There is no difficulty slider when creating a game. Players who complete the current content can replay the acts at a higher difficulty. The current progression goes: Normal, Cruel, Ruthless, and Merciless. After completing the game on Merciless, there is an end-game difficulty with randomized areas called Chaos. The amount of difficulty tiers will be reduced by one once Act 3 is enabled. Having said that, Path of Exile is hard. It becomes more difficult in the later difficulties. I liken Path of Exile to playing a game of chess, where you mustn't rush into a zone going **** to the wall without a care in the world. You do this and you would likely die. Repeatedly. Mobs need to be approached with care and some planning or kill order priority needs to be involved in your approach, especially once you start seeing some of the more sinister affixes cropping up on champion packs and elite monsters (for example: one affix makes all allies immune to damage). Mobs with elemental damage will wreak havoc on players without appropriate resist gear, while necromancers will haunt the dark recesses of dungeons and mass resurrect armies of the slain undead you spent tirelessly slaying for the past 5 minutes. You will likely die, swear, and curse at Path of Exile. What I've come to understand about this game is that it plays by it's own rules. And just when you think you've gotten a handle on the breadth of content, a new patch (hello 0.9.9) will buff monster difficulty in significant ways, ensuring that there's always a new threat when wandering into the wilderness of Wraeclast.
Loot:
The loot is based into a standard hierarchy of white items which are your plain base types, magic items which are blue (and have from 1 to 3 affixes), rare items which are yellow (which have from 4 to 7+ affixes), and unique items which are orange (and have fixed stats and affixes). Additionally, higher level gear will generally have a better chance of spawning better socket layouts (up to 6 total sockets on some gear) to help you make that unique build. The economy of Path of Exile is also unique and functions as both loot and a crafting system. There is no gold in PoE. Instead, you find orbs which do a wide variety of things (from creating rare items from white items to adding affixes to pre-existing items, changing the color of sockets/links/amount of sockets). It's here where I think Path of Exile's most original system is also it's most frustrating. The loot is so RNG'd (random number generated) that players can become severely undergeared, not for lack of trying, but for the pure unluckiness in drops or bad orb rolls. With no dedicated crafting system to provide a baseline stream of gear for tackling current level content like you have in Diablo 3, a lot of your likely success in pushing farther into Path of Exile will rely solely on the RNG gods. Thankfully, player trading is healthy and there is an entire forum dedicated to trading items for orbs, orbs for items, or items for items. The omission of an auction house or trade window acts as a deterrent for trading in-game, but hopefully these will be considered for future patches down the road. The gear also lacks a certain visual aesthetic for my tastes, but it does fit in with the context of you being on a stranded island far from civilization. Hopefully they will add more visually compelling loot as the game progress in development past open beta.
Potions:
Path of Exile has taken an interesting approach to how players heal themselves in battle. In an attempt to undo the potion spam that plagued Diablo 2, PoE has created a Flask system. Flasks are placed in your belt slot, up to a maximum of five, and can be used to recover health or mana. They have a finite number of charges, but refill slowly as you kill monsters, and can have random affixes assigned to them much like magic items. One flask could recover health while also increasing your armor by 90% during recovery while another flask could make all your hits become critical hits for the duration of the flask. Tired of becoming frozen? Find a flask that dispells frozen or chilled and stop fearing cold mobs! It's a brilliant system personally and it makes finding the right flasks for your build a thrilling part of the item hunt.
Micro-transactions:
Not much is known about what micro-transactions GGG will be selling for PoE, save for the the fact that Chris Wilson, Lead Designer, has stated repeatedly that they will not be offering any pay-to-win models in terms of their micro-transactions. So far, there is talk of cosmetic changes to skills and characters (and also offering vanity pets) but not much else.

Pros:
+ Free-to-play: you have no excuse not to give PoE a chance
+ Secure economy: on-line only functionality will ensure vibrant and cheat-proof/dupe-proof economy
+ Passive Skill Tree: the freedom players are given for creating players is beyond what Diablo 3 or TL2 gives it's players, hands down.
+ Skills: skill gems add an interesting twist to the arpg dynamic.
+ Crafting: this unique take on an age old archetype found in arpgs is fun, with orbs bestowing a wide range of random properties to gear allowing players to create some truly great items.
+ Atmosphere: there is a creeping sense of isolation and despair when you traverse Wraeclast. Dungeons are dark, creepy, and scary.
+ Graphics: The game demands a decent video card, and it really shines on max settings.
+ Potions: The flask system is PoE response to potion spamming from Diablo 2/Torchlight.
+ Developers: Grinding Gear Games are very engaged (and approachable) with their community and strive to incorporate beta feedback with an open mind. Plus, they have cool New Zealand accents!

Cons:
- Online only: for players looking to take their adventures offline, this will likely be sticking point. For others it (like me), it won't matter.
- Crafting system/economy: sometimes the RNG gods will smile down upon you, other times they won't and you'll be left feeling under prepared to face the current content.
- Music: It's nice, but it's generic and forgettable after logging off.
- Art style: more personal preference, but I feel there is too much dismal bleak settings and not enough contrasting areas.
- Difficulty: This game will make you it's b****, sooner or later. It's hard, and the developers like it that way. This may be a turn off to more casual players.
- Loot: it all looks about the same when displayed on your character model, no matter if you're level 10 or level 60.
- Loot drops: free-for-all loot favors the quick clickers and ninja looters. No personalized loot drops will deter people from playing with strangers.
- Character diversity: not enough clear distinctions between classes dilutes the uniqueness of having six classes to choose from.

Diablo 3
What can I say about this game that hasn't been already been said? Unless you've been living under a rock for the past twelve years, you probably realize that this is the long-anticipated sequel to 2000's Diablo 2. Officially announced in 2008, this is one game that legions of arpg fans have been waiting for. Since it's been announced, Diablo 3 has gone through an astounding number of changes to their game mechanics, many of which have sparked controversy as far as the internet can see. Online only functionality? Check. Real money auction house? Check. No stat points allocated at level-up? Check. Revamped skill system that can be changed on the fly with no respec? Check. Of the three arpg's discussed in this post, it seems that Diablo 3 is by far the most diametrically opposed game to the genre, especially when compared against Torchlight 2.
Story:
More than TL2 and Poe combined, I find Diablo 3's lore richer, deeper, and more engaging. It's also the third game in a 16-year old franchise, so it's at a distinct advantage over the other two games. It's not a fair fight to compare the story/lore equivalents of these three games because they're not on equal footing in this area. However, it's one of Diablo 3's strongest assets and is worth mentioning. I'm not going to even try to regurgitate the history and lore of the series, but the uninformed can can go google Diablo lore if they so choose.
Online Connectivity:
Love it or hate it, Diablo 3 is also an on-line only game. Much like Path of Exile, the reasons behind this are reportedly to foster a secure economy and prevent hacking/duping of items. Of course, the reasons you're likely to hear for why Diablo 3 is on-line only are likely to vary depending on each persons own inherent biases towards Blizzard. In any case, it's safe to assume that that the amount of cheating that plagued Diablo 2 won't be an issue, if any at all, due to the always on-line functionality and server-side operation of Diablo 3.
Characters:
You have five classes to choose from this time around. The Barbarian makes a return, but is the only one to make the transition from D2 to D3. The rest are all new: Demon Hunter, Witch Doctor, Monk, and Wizard. The monk plays like a cross between the Paladin and Assassin of D2, while the Witch Doctor is more of a pet class like the Necromancer from D2. The Wizard is similar to the Sorceress and the Demon Hunter is your ranged archetype.
Skills:
Diablo took a turn for the controversial when they eliminated the skill tree from D2 in favor of a rune system. Here, players can choose to have six active skills on their hot bar at any one time. Unlike D2, skills can be interchanged on the fly (with a 15 second cooldown) with no respec penalty. Furthmore, each skill (there are 20+ per class) has six variations depending on which rune effect you choose to apply. Coupled with more than 20 passive skills (of which you can choose 3), one can quickly do the math and see how many potential unique builds are possible for each class. Don't believe me? Go here and
do the math for yourself
. While not an immediately recognizable diverse character creation system, I think that for people who invest the time into understanding the nuances of how the new system works will find that there is perhaps more diversity in builds than you ever had in Diablo 2.
Loot:
It's back, and there's plenty of it. The armor looks alone have 16 distinct visual tiers as you progress through normal, nightmare, ****, and inferno. The loot hierarchy is similar to Diablo 2. Gray items are trash, white items are normal, blue items are magic (with 1-3 affixes normally), yellow items are rares (with 4+ affixes), orange items are unique (with predetermined affixes and modifiers), set items are green. I think Torchlight 2 has the upper hand in terms of how many different visual armor looks there are in the game, but suffice to say that either game you choose will scratch that gotta catch 'em all loot itch just fine. In lieu of gambling from D2, there is now a crafting system where you can create magic and rare items from the local blacksmith. Unused magic and above items can be salvaged for crafting materials, which can then be converted into specific craftable items provided you have enough gold to pay for it. The cost to craft items increases steeply as you level up and will ensure that gold has a place in D3's economy (unlike D2).
Potions:
Also revamped considerably since Diablo 2 is D3's healing system. Perhaps the most unique method of the three games discussed here is D3's health globes, which drop randomly from slain creatures that will heal a portion of your health/mana when picked up. While health and mana potions are also in the game, they are on a fixed 60 second cooldown and cannot be spammed to overcome spiky damage. So long potion spam...we had fun together, but the ride is over. Players will have to rely more on skill, gear, builds and abilities and less on downing potions to overcome difficult content. I think it's a welcome a change.
Economy:
Is it possible to make gold a viable economy in Diablo 3? Well, we're about to find out come Tuesday. Everyone knows how useless gold was in Diablo 2, so it's kind of surprising to see it making a comeback in D3. What's different is that there are now viable and compelling (in my opinion) gold sinks in D3 such as crafting and purchasing larger stash tabs. There is also the dreaded real money auction house (RMAH) that has become one of the touchstone debates surrounding why people either love or hate Diablo 3. The notion of people buying super rare legendaries for cash makes some peoples blood boil. Others, like myself, could care less - I don't plan on buying digital gear for actual cash. So it won't affect my own personal enjoyment of the game. But for those in an epeen race to have the rarest gear, and to have earned it fair and square, they'll likely find the RMAH a blight on the game. RMAH aside, there is also a gold auction house where you can put up items for sale much like how auction houses work in World of Warcraft. It's a great system that was sorely missing in Diablo 2 and I think it will make the economy much more vibrant and longstanding years to come.
Difficulty:
Diablo 3 follows a similar difficulty path that it's predecessors have. After beating all four acts on normal, you can play on nightmare difficulty. After you beat nightmare, you can play on **** difficulty. There is now a fourth, end-game difficulty for level 60 characters called inferno that has mobs at level 61-63. All we know is that no one internally at Blizzard has beaten inferno yet. Jay Wilson hasn't even gotten past Act 2 in inferno. How hard will this be remains to be seen, so at most it's speculation. Anyone whose played the beta will tell you how stupid easy it was (and it was easy). But I think it's a bit naive (and ignorant) to draw conclusions about a game's difficulty from the first 13 levels (and 1/3rd of the first Act) on normal difficulty and extrapolate out an assumption of how the difficulty curve will be in nightmare, ****, and inferno.

Pros:
+ Lore: the game is rich with a history and story that will likely fascinate and compel fans of the series to play D3.
+ Narrative: The voice acting is a great narrative device, and D3 is loaded with it, from quest givers to snide comments your character will make as they kill 10 mobs with one blow, the narration is in a league of its own
+ Economy: on-line only functionality will help to ensure and maintain a growing and vibrant player driven economy. The crafting system is compelling and functions as a great gold sink too.
+ Art style: This is more personal taste than the rest, but the art style in D3 is pretty consistent and of the high quality that you'd come to expect from a Blizzard title.
+ Combat: The combat is visceral, meaty, and downright fun. Smashing a monster with a 2h axe yields a satisfying thunderous explosion of destructive sound as the monster goes flying in ragdoll fashion across the map.
+ Character diversity: Each character feels completely unique from one another. Each brings something different to the table in terms of party dynamics.
+ Rune skills: Controversy aside, the rune system gives players a flexible and fun take on building unique class builds.

Cons:
- Lore: there are chunks of the back story that have been retconned since D1/D2 in order to fit with D3 better. This may irk some folks.
- Price: You'll shell out $60.00 even if you buy a digital only download direct from Blizzard.
- Online only: the lack of a single player off-line option is a big omission (and point of contention with many critics).
- RMAH: love it or hate it, this controversial system has garnered more ire from fans and critics alike. As such, I think it's hard to categorize this as anything other than a negative in my opinion.
- Blizzard: again, most will love 'em or hate 'em depending on your fanboy allegiances. Also realizing that the original team that created D1/D2 left (hello Runic Games) and didn't work on D3 doesn't help matters.
- Developers: When you become as huge a company as Blizzard is, it's more common place to feed on the tears of your fan base instead of engaging with them one on one as human beings.
- No modding: so much for a Median XL mod (or any mod) for D3.
Closing Thoughts:
I wanted to put this out there for folks to read and ponder, especially with all of the increasingly trollish threads popping up around here (and over at Blizzard) claiming that one game is more or less superior than the other. I think, when taken on their own merits, each of these three games provides a compelling experience for players. Anyone who truly loves the arpg genre as I do owes it to themselves to set their own inherit biases aside and approach each game with an open mind. Play the games for yourself, formulate your own opinion separate and apart from what is popular or trendy with whatever internet crowd you tend to associate with. Obviously this entire article is more opinion than fact, but even I've tried to broaden my mind when it comes to these titles. It wasn't even a year ago that I was pretty anti-Diablo 3 and anti-Blizzard, but playing the D3 beta really changed my mind on the game. I was surprised at how awesome it was and how enjoyable I found the gameplay.
I also think Torchlight 2 is getting the short end of the stick by being forced into a made up fanboy war with Diablo 3 (largely because it is being released shortly after Diablo 3, unfortunately). It's been made abundantly clear by developers at both Runic Games and Blizzard that they both are anticipating each others titles and feel that there is room for more than one game in the genre. I find it odd how some people portray this imaginary world war scenario when talking about Diablo 3, Torchlight 2, and Path of Exile as if enjoying one game prohibits you from playing or enjoying the others. That's just silly and I really wish people would broaden their minds, put their egos and street cred aside and be thankful that we're even getting three quality arpgs within a couple months of each other. With the exception of Titan's Quest in the mid-2000's, there wasn't a single compelling arpg released since Diablo 2 until Torchlight came along. People shouldn't take for granted just how vacant this genre was throughout most of the 2000's. Now we're getting three quality titles in the same year, with more titles on the horizon (hello Grim Dawn, don't hate me for not mentioning you). Somehow people act like the competition is a bad thing.
Their will always be people sippin' on hater-aide or living in haterville. Haters gonna hate and I won't be able to change that (or stop the trolls from coming over and posting one sentence derp threads). What I can do I try to present an open and honest presentation of the strengths and weaknesses of what I'm referring to as the holy trinity of arpgs. In the end, you can view it however you want.
I'll view it like Jell-o, there's always room for more.

"If a problem is too big to fix, one must break it into smaller problems."
WoW Weapons & Armor Modding Guide