TL2 Beastiary Project
DarkTails
Posts: 4,148
✭
Yep. I'm bored, so here we go, the beginning of something
beautiful
blood-spattered and tasty.
Feel free to submit your own stories/lore for the creatures inhabiting Torchlight, I'll link to them in this post.
I'm writing these roughly in order of appearance, I can't play the game so I'll probably deviate often.
I can play now so I'll try to make one or two entries a week.
Hopefully this will be useful for someone willing to implement a proper Beastiary into the game.
==============
Dark Fairies
Fearsome and vile, Dark Fairies have no respect for life in any form. They are conquerors, reavers, bringers of death to all races they encounter, supreme rulers of the world. This is, of course, in their own dimension where they tower over twice the height of the neighboring inhabitants and posses powers beyond the understanding of the other lowly creatures. Their only challenge is each other, the Faries war amongst themselves from time to time and the losers are cast out into the world of Man.
In the land of Vilderan they are little more than magical pests, though Wizards of even the lowest ranks often use them for entertainment. The wizards scatter golden chests with fantastic treasures throughout the land and force the Fairies to swallow the keys. This makes the Dark Faries prime targets for any mortal with half a brain and a handful of steel. The merry chases can be long, but in the end the Dark Faries' lives are always cut short.
Ratlin
Despite there never having been a precursory war between the Ratlin and the Humans (at least none recorded in known history), the Ratmen have an innate hatred of mankind, assaulting any human on sight with crude weapons and ravenous fangs. It's unknown why their hatred flows so deep for Humans specifically since almost every other race on this planet hunts them for food or extermination.
It's also unclear why there are no records of the Ratlin ever even existing before a few thousand years ago, then suddenly reports of marauding bands of the intruders began appearing everywhere.
Some historians believe that in the ancient past Mankind enslaved rats to conduct taboo experiments, both unspeakable and unimaginable. Eventually an experiment went awry and the captive rats mutated, transformed into the beasts we see today, and freed themselves from their oppressors. Within a few years their population exploded and became a nuisance we still can't fully contain today. It may explain why they invade Ember mines and take over the operations when they have no need for the precious ore. They rarely sell it, choosing to destroy it instead, an ultimate act of spite!
This is all speculation of course, none of which can be proven. And yet, there remains the mystery of the curious golden tags some Ratlin wear pierced through their ears, trinkets passed down from generations past, engraved with symbols disturbingly similar to numerical and organizational marks Humans use today.
Skeletons
Butchers, Miners, Grand Magi, no station is too high that man or beast cannot be dragged down into the cursed soil by the clawing hands of their own folly.
Shackled by magicks stronger than the grip of Death itself, hordes of Skeletons rise from their graves to wander the Earth as if in aimless purgatory. They feel no pain and show no emotion other than a mirthless grin if in life they were fortunate enough to not have been beheaded. They know no purpose until aroused by the soft thudding of a living heart, rushing to meet it with cold rusty steel.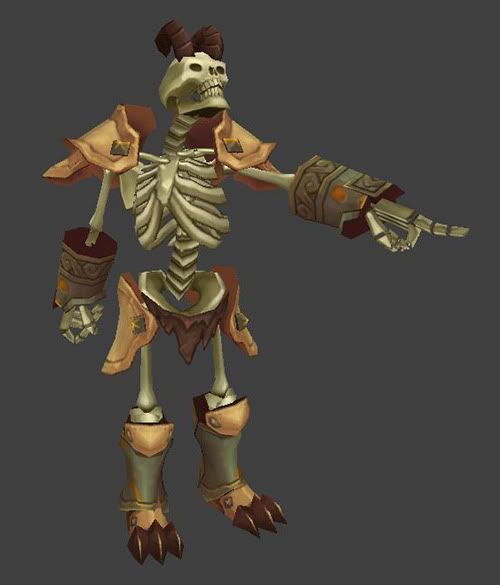 Dwarven Automata
An old saying muses pets begin to resemble their masters, in the case of the Dwarves it was they who resembled their creations. Hearts of iron, fists of steel, souls fueled and corrupted by Ember, glorious Ember! Giver of life, taker of even more, faultless in its purity, a priceless commodity of war! Such was the value of these undying servants to their Dwarven demi-gods, but the gods themselves could not last forever... or so it was believed.

Rising in waves of metal and flame, ancient automatons have returned to service as their decayed creators are reanimated, puppets of Ember energies beyond our comprehension. As this fusion of rust and flesh is reborn, the line between Dwarf and Machine is forever erased.
Goblin Hound
Decendants of the mythical Goblin Hound of Middlemoor, Phase Beasts roam the countryside with little to fear from other creatures, save for the bravest of humans on the hunt for adventure. Death releases from the beasts a portal to a pocket dimension similar to our own, but vastly different in its insidious nature. What lies beyond the seductive red glow of the portal differs with the changing landscape, but the ultimate destination is always the same; A rich prize of overflowing treasure chests, free for the taking! So as long as the adventurer can defeat the rabid army of fiends defending it!

No one knows what purpose the Phase Beasts truly serve, other than being targets for the bold, meat grinders for the weak, a tasty snack for those with an apppetite for such strange flesh. Some speculate they were amusement for a race far superior to any known, small diversions perhaps, in an even greater game the Gods only know.
Berserker Snippets
He said I was too brash, too quick to judge, that I wasn't fit to be King! And when I was done punching his eyes out the back of his skull... I knew my father had been right.

--Interview with Rambren the Berserker