Legendary Items Overview [Bows]
DarkTails
Posts: 4,148
✭
Allow me to preface this post with my congratulations to Runic on a game well done. There will most likely be some item bashing in here, but it's all for **** n' giggles and shouldn't be confused for serious griping. We can't all be perfect in everyone's eyes, all we can do is try our best.
There's no srsly purpose to this thread, these are simply thoughts on the Legendaries based entirely on their names and stats, how interesting they are, and how they could maybe be tweaked to fit their titles better. I'm sure given more time, many of the Uniques and Legendaries could have been "less bland", but what are you gonna do!
Feel free to offer your thoughts on any of them, eventually I might cover them all.
Legendary Wands
Legendary Greathammers
Legendary Pistols
Legendary Crossbows
Legendary Swords
Legendary Staves
Legendary Greatswords
Legendary Claws
Legendary Shotgonnes
Legendary Greataxes
Legendary Shields
Legendary Polearms
Legendary Maces
Legendary Cannons
Legendary Bows
===================
First up is the Legendary Wand Collection.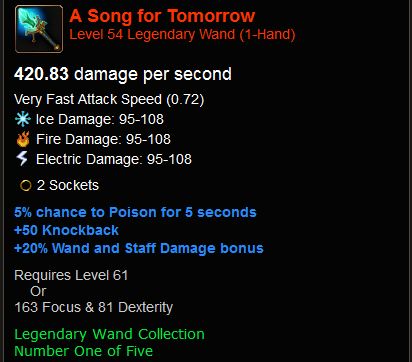 I'm as happy as a mole in a hole with the names given to the Legendaries and Uniques. They're hard not to like with titles like "Heart of the Ignivore" and "Antikythering" (which is probably a reference to the ancient Antikythera device found in Greece). Many of them are reminiscent of old action and horror movie names like "Magnum Force" and "Tomb of Ligeia".
What irks me like a spur in the eye is that the item's magical properties often don't do anything that may relate to its name. Of course, some titles are vague and it's understandable that they have seemingly random properties.
"A Song For Tomorrow" is one of the prettier item names and stands out, like a glistening mermaid in a sea full of testosterone-injected squid monsters. The soft name makes me feel like this was a missed opportunity to make a weapon that did something other than freeze and fry **** at a distance.
It could have been a party-oriented item that would allow you to teleport allies to a safe distance when they're about to die. Maybe it could be a healing wand with 100% heal charges to rescue your allies so they can live to fight (or sing, see wut i did thar?) another day.
Instead it's a generic wand that deals 4 types of damage for some reason and adds 20% damage just because. The knockback is nice though, smack them away and blast them again.
==================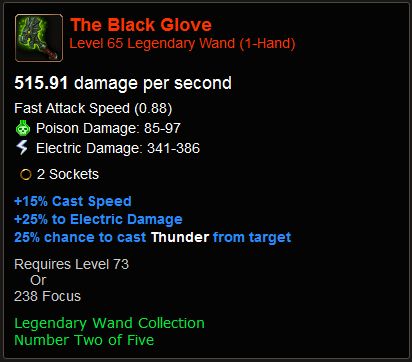 If you didn't immediately picture the "Smell the Glove" album cover then there's something wrong with you.
Here's a confusing name for a wand, but at least the stats have an electric theme... with a green dragon head model... with some poison randomly thrown in, feh. Chances to add spectacular effects to your attacks is what Legendary items should be all about, this one gives you a 1-in-4-hits chance to cast a skill that sounds like it would look awesome. If the Death Penalty has taught us anything it's that monsters dying in electric explosions is always entertaining.
"The Black Glove" does make some sense if you think of it as a black rubber glove to insulate the hero against the energy sparking out of the wand, exept that the wand itself is the glove, so it's... holding... itself? Whatever!
========================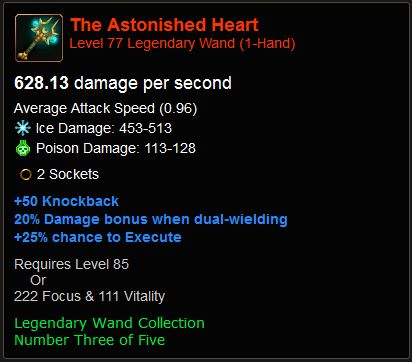 Here's a nice vague title that can go in any direction. Who's heart is it meant to astonish? The player's by granting a powerful bonus or the monsters' by obliterating them mercilessly? A little of both in this case with those dual-wield-friendly stats.
Wands that do more than one or two kinds of elemental damage still feel weird to me, like they're just thrown together. This Legendary definitely needs more astonishing-ness, as is it suffers from the same problem as many other Legendaries, they seem like generic Uniques.
========================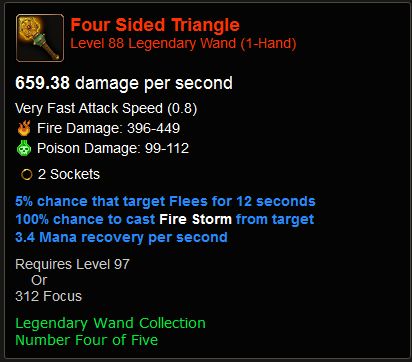 Trippy names are always welcome, the stats reflect the weirdness though. This wand has a small chance to cast Flee, but also a 100% chance to cast Fire Storm, which itself has a high chance to cast Flee. Why not just replace the 5% chance with something else?
I'm no mage player but 3.4/sec mana seems horribly UP (underpowered lol) for a Legendary.
Maybe I need to see Fire Storm in action to understand why this wand is called the "Four Sided Triangle"?
Maybe it's math humor?
======================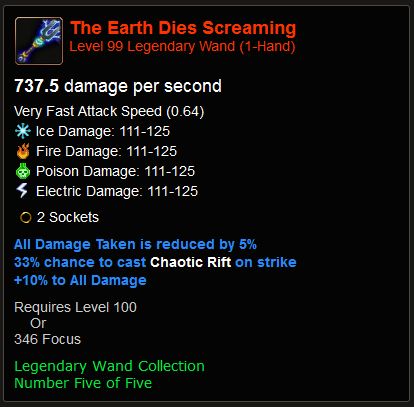 Not coincidentally, the weapon with the best name in the game is also one of the most ruthless. It inflicts all 4 types of elemental damage at once, presumably also having a chance to inflict their respective status ailments. It amplifies all damage given and reduces all damage taken. The 33% chance to cast Chaotic Rift is game-breaking! Monsters are teleported and stunned 100% of the time they're hit and they have an even higher chance of getting a status ailment from all 4 elements!
Imagine being some poor monster, going on about his business of gathering honey for his hungry children, and then it seems as if SUDDENLY, THE EARTH DIES SCREAMING!
=======================
This is the kind of nonsense I write when I can't play any games lol. (no graphics card)
Anyway, that does it for this edition, enjoy! (or wretch in agony, I don't care!)