The Clawlander Commander
DarkTails
Posts: 4,148
✭
Updated May 8th
Don't know if there are any guides for making a Clawlander (Claws + Outlander, how clever!), and this post isn't one either, I'd just like to share my experiences with it so far. Will post pics and elaborate later (go ahead and ask questions), TL;DR version at bottom.
Class
: Outlander
Weapon of Choice
: Claws
Difficulty
: Veteran
Number of playthroughs
: 1
Recommended for ****?
: xD
Current look:
Old look: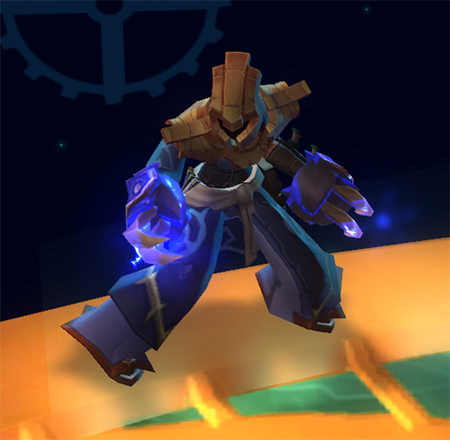 And here I am with my BFF Commander Vale (NSFW):
Just kidding
It's important to note that this is the first Clawlander I've made. I've followed no guides so it's totally experimental. The result is an exciting, invigorating, sphinxter-puckering, but most importantly, fun character.
Overview
The goal was to make an Outlander that uses 2 claws and focuses on melee combat. Not 1 claw and a shield, not a shadowling summoner, just the best brawler possible with the OL's skills. It just so happens that Outlanders have skills suited for melee.
Stats
Level 100 Clawlander (NG+)
From what little attention I pay to min-max threads, I've made the guess that pumping FOC is good for Magic dmg claws and Execute while STR is good for boosting Physical dmg claws
and
Magic dmg too for some reason.
Obviously those stat boosts are crazy, but they're overkill, you can knock-off points in all areas and get about the same performance, you'll just do less damage. The bonuses are a combination of finding gear with generous stat boosts, Borris, lucky useful gear finds, and a bit of gear donated by other players. So yes, like I assume is the case with all under-played builds, this character is gear dependent.
Gear
Here's my current gear:
New gear I need to enchant:
Updating
Back-up Shotgun: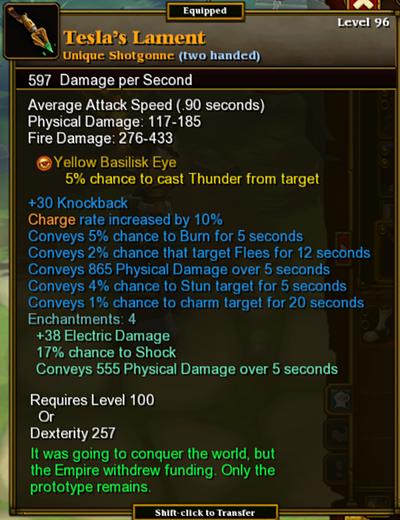 Use "Ladder Gear" as much as you can, pieces of gear that let you wear something stronger. Using some crappy Lv.30 gear is worth it if it lets you use other gear that's 40 times above your level. At some point you'll have to upgrade the crappy gear though! I passed that point a long time ago, but I like orange so I've kept the Granite Shoulders lol.

I like electric attacks so I look for stuff with +Thunder and +Electric Damage. Every time Thunder hits everything frikkin' explodes, it's awesome.

I'm favoring gear that has "+X HP/sec for every monster within 3 meters" over Health Steal. I'm constantly in the fray, so I automatically get hundreds of HP regen per second, even while dodging or escaping!, instead of having to hit monsters to regenerate.

Keep an eye on your defenses! You don't need 1000 in each type of armor, but it helps a ton early on and in NG+. Now playing late NG+, I'm very susceptible to critical hit OHKOs, no matter how much armor I stack. You're going to have to harvest some baby monster skulls for damage reduction and HP. (I recently upgraded gear, but lost a ton of Vitality, I'm squishy again)
How does multiplayer affect the Clawlander?
The current build is effective, but it has drawbacks. The more players there are, the less viable this build becomes (this specific unoptomized build, not Clawlanders in general):
Single Player: Can tank almost anything 1v1, can handle most mobs with a little help from Glaive Sweep.

Two Players: Can tank almost anything 1v1; Glaive Sweep gets heavy use to keep mobs off your back and recover HP.

Three Players+: For 1v1 battles, if you forget to cast Stone Pact (healing) you're screwed. If you do cast it, you can bring the monster down with a combination of all your abilities (stun/heal/dodge/DoT/etc.), like using all your elemental powers combined to transform into Captain Planet, except Heart is Rage, Wind is Incoherent Screaming, and Earth is pummeling your foe into **** slurry with a thousand giant knives strapped to your fists; Mobs are a problem because even though you're dodging a ton of blows the ones that do get through hurt big time due to low health/resists. It's possible to be a total badass and run headfirst into mobs, keeping them busy with your mad skillz until your backup arrives, but it's not recommended and should only be done to show how big your titanium ****/ovaries are.
What classes combo well with Clawlanders?
[will elaborate later]
Clawlanders love Engineers.
Clawlanders don't like Embermages but will team up with them if they can keep monsters distracted or outright annihilate them. I think the problem is that Embermages are simply designed to destroy, they don't have any playstyle that compliments a Clawlander, at least not from what I've seen from playing with them. Embermages tend to shoot wildly at everything, this makes it hard for the Clawlander to plan attacks. Another problem is that their crazy flashy spammy attacks sometimes don't let you see what's going on and therefore can't react appropriately.
Clawlanders have no beef with Berzerkers and will pair up with them any time, unless they smell really, really bad that day.
Clawlanders and Outlanders work okay, Clawlander is melee and Outlander is ranged support to keep stray monsters off your back. I don't remember if both Stone Pacts/Share the Wealth/etc. stack though.
Skills
Wasn't hard to decide what skills to pick. All the long range stuff is automatically off the list and I don't like summoning things, so the skills picked themselves.
Primary Active Skills
Stone Pact
I can't believe this in-game hack is a skill lol. Stone Pact is the main reason this character stays alive, the constant healing along with Dodge Mastery does wonders for your squishy insides. It allows you to tank almost anything, and the reflected damage is a neat bonus.

Blade Pact
Reduces monster physical armor so your claws can tear through easier. It's also nice to turn enemies into slugs, especially useful against Werewolves because they will **** your **** up with the quickness. Leaving it at 10 points has worked well, 15 doesn't make much of a difference.

Glaive Sweep
Crazy skill with lots of benefits, it's a must-have for this build to deal with mobs. The Stun and Knockback are the main draw, the Charge regen is cool but you can build that quickly anyway because of how fast your Claws are.

Cursed Daggers
A nice chunk of damage reduction and it can kill most weak monsters in seconds, letting you focus on bigger threats. The perks after leveling it up to 15 are nice, but they're never a conscious factor when I use this.
Secondary Active Skills
Rune Vault (1 temporary point)
That's right, I rarely use Rune Vault in Single Player, I use it like an "Eject Button" when things get way too hairy. The neat thing about Rune Vault is that you keep backflipping as long as you hold down the button, it can be used as an emergency escape or simply as mobility. You backflip in the opposite direction the cursor is, so with some practice (and a steady supply of mana) you can very quickly cross an entire map. The Blindness is great combined with your already high Dodge chance.

Burning Leap
This is the upgrade to Rune Vault. Knockback + Fire Damage is nice, but what's awesome is that you can single out a target from a mob with this skill. You Burning Leap in their face and knock them back the entire time you're flying, isolating them and doing some nice damage as well. You also land right in front of them so you can keep on jackhammering away. Also, it has no cool down so keep separating them as far as you want! It **** up mana though so I can only get off a few Fei Long-ish Dragon Kicking leaps, luckily you only need 1 or 2 to create comfortable distance.

You can also use this skill to do damage without knocking the monster back! Instead of aiming BL directly at the monster, aim it slightly to the side of it, this inflicts damage but the monster doesn't move (or moves very little). Meanwhile you continue forward and land safely at a distance, giving you time to cast any support spells and use BL again. You can destroy a monster without it ever touching you this way, especially if you have a pet to distract it.

Shadowling Brute
No. NO! Summoning allies only takes away from the Clawlander's inevitable victory. If you want something done right and hog all the glory then you have to do it yourself!

Shattering Glaive
Even with only 1 point, it's entirely possible to throw your claws away and rely on this attack for all your damage, but you're not going to do that because you aren't a ****. Clawlanders shred through the battlefield like a blender set to "Liquify" and "Crush Ice" at the same time, so don't be a pansy by using this skill as a crutch. Feel free to use it to make farming easier though.

Sandstorm
Similar in effectiveness to Shattering Glaive, it's crazy strong and each tornado can hit and stun repeatedly. Use it to clear out corridors in a jiffy (BL can do it too, but this is safer), unleash a tornado storm to wipe out entire rooms! It's also good for taking out those deadly turrets from the safety of around a corner. Simply stand where they can't hit you and toss a bunch of Sandstorms in the turret's general direction, or bounce it off a wall for style points. And if a Sand Hulk ever dares trap you like the feral animal you are, quickly tear down the rock walls with your blade storm!
Passive Skills
Poison Burst
This has been great for shortening the length of mob skirmishes, which is important because the longer you fight the greater the chance you're going to get lucky-punched (or lucky-stabbed, lucky-smashed, lucky-brain-eaten) and die. Later on if you find good gear that deals lots of damage you won't need this anymore. I set mine to 2 points and haven't looked back.

Master of the Elements
This is a must if you want to be an elemental Clawlander and is all-around useful. Do you want to have average electric attacks and be nicknamed "Sparky" or do you want to be called "THUNDER-RULER, MASTER OF LIGHTNING AND CRACKLING FLESH!!!"?

Share the Wealth
Because, hey, why not!
Passive Spells
These are simply what I've found so far:

Elemental Protection
Absolutely vital early in the game, low defenses and HP means you're going to die a lot to critical hits. This should be abandoned later on as the benefits are negligible compared to how much damage monsters deal.

Dual-Wielding
This gives a bigger bonus to attack than Weapons Expertise.

Armor Expertise
Other skills/spells will be preferred if you decide to go summoner/elemental/etc. In other words, if you're a spineless jelly-filled donut of an Outlander, then by all means, use Summon Skeletons and Summon Fluffy Puffballs and ****. Summon Spore is acceptable though, they're cute!
Playstyle & Tactics
Now that all the boring **** is out of the way, let's learn what it's like to be a Clawlander.
The way of the Clawlander is not for the faint of heart or spirit. You are going to die, and you are going to die a lot until you understand how to handle yourself. You need to be fluid as wine and steady as stone, you must be alert to everything around you while focusing your savagery at the beast in front of you. Skirting the battlezone gets you killed, you must sack-up and jump into the fray because that is the safest and most dangerous place to be in all of Vilderan.
...but it helps.
Here's a term I will become legendary for 8-) ; This Clawlander's battle-style is called Multi-Tanking.
What is Multi-Tanking?
Multi-Tanking is when you tank a group of enemies individually.
What the **** are you on about?!
A typical encounter goes like this:
1. Clawlander sees a mob of enemies and flips the **** out. Who are all these punks invading my homeland, eating my berries and beer and ****! She casts Stone Pact/Blade Pact/Cursed Daggers/Elemental Protection, whatever the prep work needs to be.

2. The monsters and Clawlander clash head on, blood is splattering, teeth are flying in all directions like pearly white shrapnel! Glaive Sweep is used to Knockback and Stun everything in range.

3. Now that they're Stunned and scattered, the Clawlander picks a target and goes to work, jackhammering away at the hapless foe.

4. The other guys recover and start mobbing the Clawlander again, so they get another faceful of Glaive Sweep, and the Clawlander is free to go back to decimating the previous target, focusing on it like a shark after that one particular seal with a heart-shaped birthmark on its tail because sharks hate cute **** like that. (Sharklander? lol).

Stone Pact/Blade Pact/Glaive Sweep are continually used/recast as needed throughout the battle until all enemies are dead.
That's the jist of it, why does it work?
Stone Pact is great but it can only do so much. Your other skills and abilities combined with Stone Pact turn you into a tank that heals too fast to be killed. I've tanked every boss so far even with the crappy gear. Mobs are great to jump into because if you ever need to heal in a hurry, you just Glaive Sweep to buy a few seconds to let Stone Pact heal or use a potion.
A problem arises if you have low health/defenses like me, you get OHKO'd by lucky crit punches. It's suicide to go after mobs of monsters that deal DoT, it stacks up and you die quickly. In those cases it's best to kill those monsters first or Stun them constantly with Glaive Sweep (it doesn't have a cooldown so feel free to spam it until they're Stunned). You can also fallback to Poison Daggers to do all the damage, they have built in knockback and you shouldn't ever be damaged with Burning Leap and Glaive Sweep to keep the monster away.
The Clawlander auto-attacks so mana is rarely a problem since mana recharges while fighting. Minimal Mana Steal is helpful though.
My health spikes up and down constantly during battles because it's low, it can be nerve-wracking but I have to have faith that the skills will keep me alive, and they usually do.
As you can see, it's a straightforward playstyle, despite the wall of text.
TL;DR Version
Clawlanders like health steal/proximity regen, damage reduction, being in mobs, Engineers, and stuffed jalapenos
Clawlanders hate DoT done to them, shielded monsters (my pet has 100% shield break to help), not being twinked, and non-stuffed jalapenos. I don't think they even like jalapenos, they just like the sweet, sweet cheese and boiled Sturmbeornen tongue stuffed inside.
Try to get your Health and Defenses to a comfortable point as soon as possible, after that you can spend the rest of your sockets and gear customizing the Clawlander.
You should have minimal problems with mobs since almost every skill has crowd control and splash damage! Burning Leap, Glaive Sweep, Poison Daggers, and Shattering Glaive can all be used as crowd killers.
Stone Pact/Blade Pact/Glaive Sweep/Burning Leap/Every Freaking Skill At Your Disposal are continually used/recast as needed until all enemies are dead.
Why did you call it the Clawlander Commander?
Because once a bunch of people join, my weak defenses keep me out of the fight, so I hang back and spit out witty one-liners and command the team to kill faster and give me any claws they find 8-)