A Proposition to Modders (Related to Vendor Spawn Classes)
lyravega
Posts: 338
This is an old discussion. Please refer to this if you are interested: viewtopic.php?f=57&t=55562
Greetings everyone.
I have an idea for compatibility. Currently, I have two mods that use the same Spawn Class (MERCHANT_GENERAL_INVENTORY). I managed to make them compatible with each other, but why stop there? The way I made them compatible is simple. I created one new spawn class for each mod. Called them MOD000 (for Gem Box) and MOD001 (for Stash Scrolls) respectively. And I added the items that those mods add to their own spawn classes. Then, to test stuff out, I added these new spawn classes to the main one; MERCHANT_GENERAL_INVENTORY now contains two spawn classes, and both mods use the same file.
You may be getting confused, even if not, for the sake of clarity; ignoring all the items that the mods add,
The first mod adds MOD000 spawn class, and MERCHANT_GENERAL_INVENTORY
The second mod adds MOD001 spawn class, and MERCHANT_GENERAL_INVENTORY
Both MERCHANT_GENERAL_INVENTORY are the same; it contains MOD000 and MOD001 spawn classes in it, but
First mod doesn't have MOD001
Second mod doesn't have MOD000
So, when you build the mods, and launch the game, both of these spawn classes show up; MERCHANT_GENERAL_INVENTORY gets overwritten by another one, but since it is the same file, it still has access to MOD000 and MOD001, which belongs to different mods. In short, I can use one same "master" file, and make stuff compatible.
Here is my proposition now:
Lets create master spawn class files such as MERCHANT_GENERAL_INVENTORY, which will contain a lot of spawn classes in it, called such as MOD_MGI_0XX (X represents a number, MGI representing the initial letters of Merchant General Inventory). Anytime another modder wants to add items to a vendor, he would grab this master spawn class file, add it to his mod, and just add the items to one of the spawn classes that he chooses. Then s/he would report to a forum topic (related to master spawn classes) that s/he used which custom spawn class, so that other modders would know this, and avoid using the very same custom spawn class & thus avoid the conflict.
The aim is to get rid of these spawn class conflicts, especially related to vendors. It may take a few more steps for the modder to make his/her mod, but on the long run, all mods that use this system would be conflict safe. An user that has loaded 5 mods that use the same vendor will be able to see all the added items this way.
Please tell me what you think.
edit* You shouldn't edit the "master" file via GUTS. A text editor is needed, if you try to edit it via GUTS without the other spawn classes, they won't show up. The idea is not creating/editing the master file, but rather using one that has many slots already defined in them; you just need to put the master file, along with the new spawn class that your mod uses.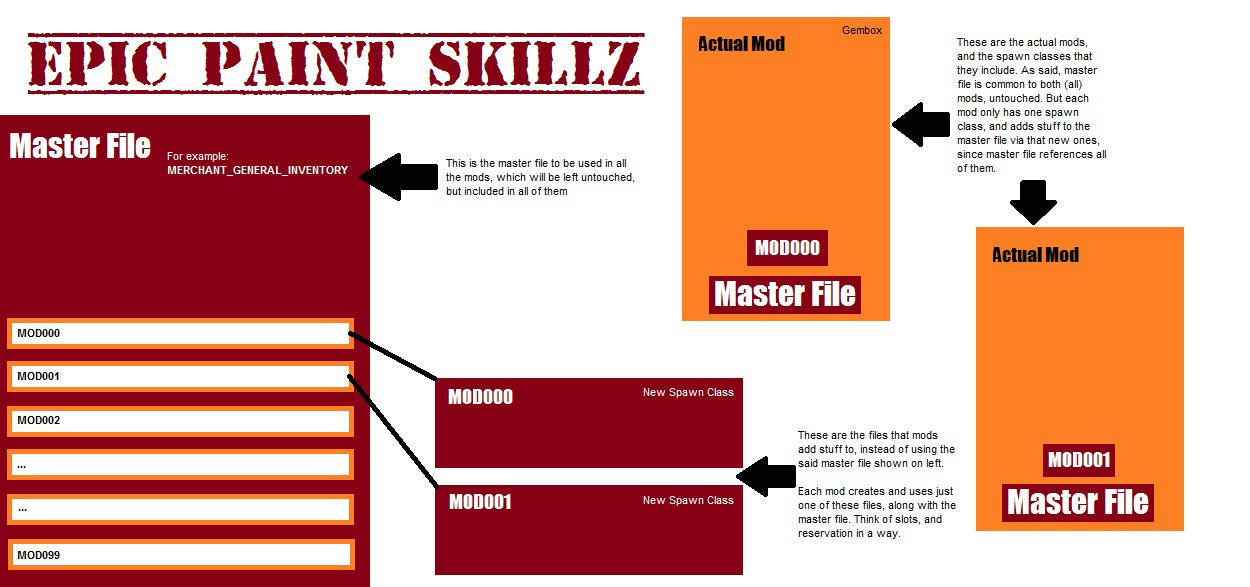 I will be migrating to
Steam Workshop
soon; not to worry, I won't drop non-Steam support, I will just copy/paste stuff from workshop pages instead of writing same but different "article" three times for every mod.