Red Dwarf returns to Operational Status X-Ray Green
Neophytoi
Posts: 3,539
All interested:
Brace yourselves, but the boys are back...
again
.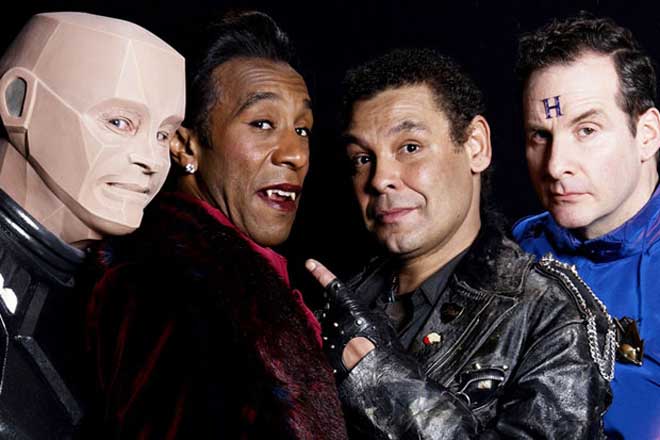 Ready for

anything!

action!

a good time!

who the **** knows or cares?!?
If you don't know what this is,
find out
! You'll be doing yourself a favor, and making the galaxy a better place for... well, dammit, does it really matter who the galaxy is made better for? It'd be
better
, and - more importantly - at least you won't be wastin' valuable time watching that friggin' DWTS... likely by your lonesome, while you idly wished the galaxy were a better place!
If you do know, let their return be the cause of great rejoicing throughout the suddenly-made-safe galaxy (albeit on a tight budget that's merely household in scale... well, okay... maybe even that's a bit too grand in scale... how about at least a portion of one room, a closet say, in a modest-sized home that's easily overlooked because all the rest of the homes on that street are the stuff of McMansions... likely McMansions whose televisions are tuned in to another neuron-deadening, galaxy-ending, reality-crushing episode of DWTS)!
In May, series creator
Grant Naylor
announced that an eleventh and twelfth season had been commissioned by Britain's digital broadcaster Dave, and that the two seasons would be shot back-to-back "sometime" towards the end of 2015 for broadcast in the UK in 2016 and 2017 respectively (with Netflix and PBS likely running eps a bit later).
Well, it's at last happening. Pre-production is underway, and shooting commences in October.
EDIT: Added Grant Naylor's Twitter url and fixed a really, really, really poorly written sentence. Okay, they're all really, really, really poorly written, but this one was extra-specially poorly written, and so it needed to be fixed... well, as much as a poorly written sentence could be actually fixed.
never let your hatred of people who would bar you from the Inviolable House of Worship lead you into the sin of aggression: but rather help one another in furthering virtue and ****-consciousness, and do not help one another in furthering evil and enmity