Sadly, Lars IV has passed away. She made it all the way to the 12th floor of the Endless Dungeon before meeting an untimely end at the hands of... A Trick or Treater!
That's right. The door bell rang, I got up to answer it after hitting the spacebar to pause the game. Unfortunately, when I returned I managed to hit the edge of the screen with the mouse cursor just as I was unpausing the game. What this means is that the game minimized when my cursor jumped to my other monitor. When I got back to the game screen Lars the Fourth was dead.
Ah well. I'm looking at it like this, I now have an opportunity to change gears and try out that Arbiter build I've been thinking about.
So, here's the deal with Lars V. I'm going to chronicle my progress level by level and include information on drops, skills and what not and see just how far I can get this build to go. The concept behind this build is going to be Wands and Traps. So, if anyone has any knowledge and sees me headed down a bad path with this character, please pipe and let me know!
Onto the crawl...
Level 1: Plain ol' plain old. Hopefully a nice wand will drop on Floor 1.
Level 2: Dinged shortly after posting. Nothing spectacular, still on Floor 1 and have found a piece of armor for every slot.
Put 3 points into Magic; bringing it to 10.
Put 2 points into Defense; bringing it to 8.
Added a point to Lightning Bomb to test the skill out.
I found a green ring that gives +14 to health, a Haste I spell and a blue bow that has really crummy DPS (33) but I'll use it til I find something better. Onto floor 2.
And all hell broke loose. I stepped off the elevator to be greeted by a swarm of hostiles. No joke, it was like they were sitting there waiting to jump me.
Luckily there was a Health Shrine handy and I had enough healing pots to survive. Seriously, they tried to end me right there.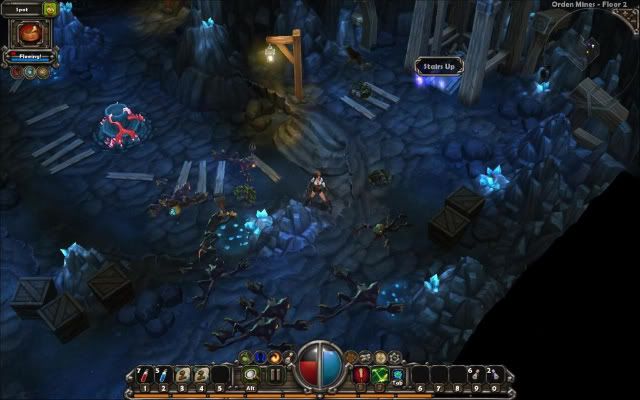 Level 3: I wasn't impressed with Lightning Bomb. I won't be revisiting this skill.
Put 2 points into Dexterity (I needed them for the bow I found earlier, it has a Dex req. of 12)
Put 1 point into Magic.
Put 2 points into Defense.
I'm saving my skill point for later.