[Original post Sept 7, 2013]
Hello, Runic Games Forum! I'm not a very active member of these forums or a currently active player of TL2, but for about the last year I have been casually programming an infinite shared stash management program for TL2. Chthon beat me to the punch with Stash Ninja quite a while ago (I blame my recent wedding for distracting me for 10 months
), but I'm finally comfortable enough with the state of my program to put it out there and put it through its paces. Announcing
FNIStash
!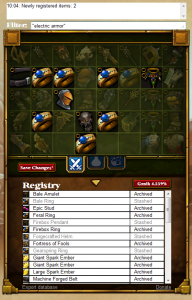 Features:
Infinite shared stash
Search items by key phrases
Grail reports that show which items you have not found yet
Import/export your items from/to Stash Ninja
Reads the TL2 PAK files directly, so is automatically updated with future patches (within reason)
Other stuff
The homepage for FNIStash is located
here
and video tutorial is
here
. Note: I'm still fleshing out the homepage with subpages that explain all the features. I am certain that FNIStash is not perfect, but it has handled everything I have thrown at it. Instructions for reporting bugs are on the website. I will also try to keep close tabs on this thread, but these forums are blocked at my office so I cannot respond during normal east coast US business hours.
For the record, FNIStash and Stash Ninja each aim to serve different purposes. I think there is room in the community for both, depending on what the user wants to do.
FNIStash was built for collectors, not item modifiers. If you are looking to achieve the Grail in TL2, FNIStash will help you get there. This program was a learning exercise for me, but I hope the end product is truly useful.
Happy Grail hunting!